WHITE BIRD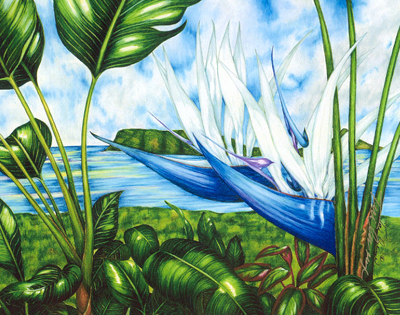 White Bird
24" x 16"
30" x 22" framed in Koa (wood of Hawaiian Royalty)
$2,500

IJP8-7 11" x 14" Double Matted Print $28 Click here for ordering information.
IJP8K7 12 1/2" x 15 1/2" Double Matted Print Framed in Koa $67 Click here for ordering information.
IJP-7 16" x 20" Double Matted Print $45 Click here for ordering information.
IJPK7 171/2" x 211/2" Double Matted Print Framed in Koa $101 Click here for ordering information.
"Dear Botanicals Hawaii:
I just wanted to let you know that I received the giclee today. It arrived in perfect condition and is even more beautiful than I thought it would be. The paper is exquisite and the quality is incredible. My husband is an artist and he was overwhelmed by the quality of the Bird of Paradise, and the beauty of this piece. It is truly a beautiful work of art. I highly recommend the Bird of Paradise Giclee to web shoppers everywhere. Dealing with your company has been wonderful, you have kept in touch with me and made me feel as if I were very special. Thanks again for the beautiful work of art and your wonderful customer service."
Catherine German, Stockton California USA

"I find these cards quite breath taking. I love the cards and I just wish I could get back to Hawaii to see the beautiful sites, it has been nearly 30 years since I was to the islands, and I loved every minute that I was there. I came home with some very wonderful memories of your fantastic islands."
Marlene D'Alessio; Richmond, OH
"Wow, Teri's work is simply amazing--literally. I currently have (besides all note-card collections) one print and one giclee print and they are my wife's and my pride and joy. When ever someone new comes to our home, we shortly show them the magnficient art. We have them framed behind glass. After people ooh and aah a little, we then tell them the originals are pencil. Then they are disbelieving--truly amazed! The colors are more radiant, rich and alive than most paintings."
Lorin Wilson, California

To join Friends of Botanicals Hawaii and receive announcements about
specials, contests, or new products, send an email with
'SUBSCRIBE' in the body to: roy@bothi.com
Your email address is held in the strictest confidence.
(To use a form, click here.)
Your satisfaction is guaranteed or your money back.

DEALER INQUIRIES ARE WELCOME.
Copyright © 1996-01 Botanicals Hawaii
All rights reserved.
E-mail your questions or comments to: roy@bothi.com Last Modified: December 9, 2001