HULA GIRL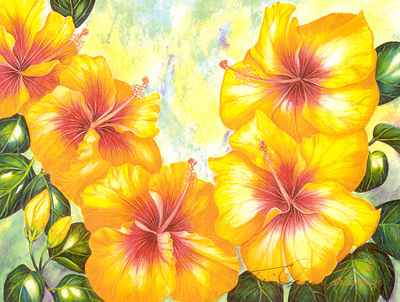 Hula Girl
16" x 12"
20" x 16" framed in Koa (wood of Hawaiian Royalty)
$500

LZR8-55 11" x 14" Double Matted Print $25 Click here for ordering information.
LZR8K55 12 1/2" x 15 1/2" Double Matted Print Framed in Koa $67 Click here for ordering information.
LZR-49 16" x 20" Double Matted Print $40 Click here for ordering information.
LZRK49 171/2" x 211/2" Double Matted Print Framed in Koa $101 Click here for ordering information.
"Your beautiful life like pictures bring back wonderful memories of my Mom. Along the edge of our property line in Kapaa on Kauai, she had 15 hibiscus plants all of differant colors and all spaced out evenly in a row. Dad would graff them for her and come out with some winners. Tour buses would pass by to see her white hibiscus bush that had red, orange, yellow and white flowers. She had some with 3 colors on one flower. Her bird of paradise bushes were thick and round and full of flowers. There was one variety that grew as tall as the roof of the house...honest. She had flowers everywhere. I am building a new home. You can be assured one wall will be saved for you. There will be 3 of your 16x20 or maybe bigger on my wall. I just need to pick-out 3 of the same length size to go on my wall. Thank you for reminding me of when my Mom was still here with me and her love for the flowers of home."
Christina Leihualani Stier
"I love your web site. It is a nice break to see botanicals since it is the middle of winter here."
Michelle Nourry; nourry@pgonline.com

"Your sight is one of the best I have seen. I highly recommend it to everyone."
Dolores Seiwell; d.seiwell@gurlmail.com

To join Friends of Botanicals Hawaii and receive announcements about
specials, contests, or new products, send an email with
'SUBSCRIBE' in the body to: roy@bothi.com
Your email address is held in the strictest confidence.
(To use a form, click here.)
Your satisfaction is guaranteed or your money back.

DEALER INQUIRIES ARE WELCOME.
Copyright © 1996-01 Botanicals Hawaii
All rights reserved.
E-mail your questions or comments to: roy@bothi.com Last Modified: December 9, 2001