RED HIBISCUS #9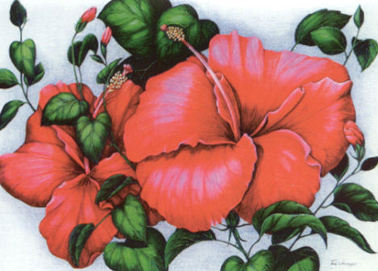 Red Hibiscus #9

The hibiscus is Hawaii's State flower. It is found in a multitude of colors throughout the islands, with red being one of the most striking. The red hibiscus is seen in every part of the islands ranging from small double flowers which look like carnations to large hybrids the size of a small coconut.

Hawaii has produced many excellent artists and I'm glad to see you have joined their ranks. I also admire your specialization of botanicals. Many have been produced but few would be as welcome on my walls. I enjoyed your website very much. Mahalo
Anona Kam; San Jose, CA

"Thank you so much, they are beautiful! Thanks again!!!!! :)"
Phyllis Joy Persun; http://members.tripod.com/~PhyllisJoy/

"I got my cards yesterday, and they are so beautiful! I liked the way the cards looked online, but they are so much nicer "in person". Thank you so much!"
Linda Guss; South Elgin IL

"I am dropping you a quick note to let you know that my package arrived on Saturday. Thank you again... they are beautiful and I will enjoy using them.
Deana Logan; Kansas City KS

"I just received my notecards in the mail today. They are BEAUTIFUL!!!! I can't imagine how they got here so fast! I will enjoy sending them out...."
Debi Clermont; East Freetown, MA

30" x 23"
39" x 32" framed in Koa (wood of Hawaiian Royalty)
$5,000

To order a LIMITED EDITION PRINT of this original:

PR-2 29 1/4" x 21 1/2" (size of print) $60 Click here for ordering information.
To join Friends of Botanicals Hawaii and receive announcements about
specials, contests, or new products, send an email with
'SUBSCRIBE' in the body to: roy@bothi.com
Your email address is held in the strictest confidence.
(To use a form, click here.)
Your satisfaction is guaranteed or your money back.

DEALER INQUIRIES ARE WELCOME.
Copyright © 1996-01 Botanicals Hawaii
All rights reserved.
E-mail your questions or comments to: roy@bothi.com Last Modified: December 9, 2001